Courtney Walsh. Change of Heart. Carol Stream, IL: Tyndale House Publishers, 2016.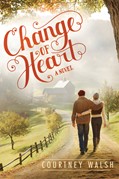 With Valentine's Day just behind us, the heart-shaped decorations and pink confections are gradually disappearing. For the second year in a row, I am spending this time with one of Courtney Walsh's heart-themed novels.
In Change of Heart, Ms. Walsh picks up where she left off with the residents of Loves Park, Colorado, in Paper Hearts. Evelyn Brandt joined the town's famous Valentine Volunteers and other civically-minded groups to please her husband, a state senator. However, her life and marriage rapidly fall apart when he is arrested for embezzlement and his other character flaws soon come to light. Evelyn soon finds herself relying on the assistance of an old friend, Trevor Whitney, who also happens to have hidden her husband's indiscretions from her for years. With the help of the women of the Valentine Volunteers, Evelyn begins to piece her life together once again, rediscovering her dreams and artistic abilities that once captured Trevor's heart.
Ms. Walsh brings together an intertwined cast of characters reminiscent of small-town life. Loves Park shines as the setting of this novel, while Trevor's family farm offers a unique addition to the backdrop of her works.
Overall, I was surprisingly pleased by Change of Heart. In my original review of Paper Hearts, I found the storyline to be rather corny and the pacing to be somewhat uneven. In comparison, Change of Heart reveals Ms. Walsh's significant growth as a writer. The novel displays an intriguing and well-thought-out plot that displays the evolution and development of her characters. Additionally, I found the inclusion of the Valentine Volunteers to be more selective, which actually made them into a more unique and stronger device within the novel. While I was somewhat hesitant to read this novel after my disappointment with Paper Hearts, I am very glad to have given Ms. Walsh a second chance. Change of Heart will offer readers a new perspective on Ms. Walsh's writing. As a result of this improvement and the absorbing storyline of Change of Heart, I look forward to reading Ms. Walsh's forthcoming books.
Readers who enjoyed Paper Hearts and Ms. Walsh's stories will definitely want to read Change of Heart. Additionally, fans of contemporary Christian romance will also want to try this novel. While I compared Ms. Walsh's previous novel to a relatively-slow and simple Hallmark film, this book offers a more complex and well-developed story that readers will definitely enjoy
Special thanks to Tyndale House Publishers for an advanced copy of Change of Heart!
Looking for this book? Support the Books and Biscuits blog, while shopping at:
Amazon – Change of Heart (Paper Hearts)